MeepleCon 2018 Recap
March 19, 2018
by Ambie Valdés
Last weekend I went to my second MeepleCon, a board game convention in Las Vegas! The convention was three days, but we ended up getting a flight early Sunday morning to go home (other flights were a lot more expensive), so we were only there on Friday and Saturday. But we still had tons of fun playing games!
The Games
I played
22 plays of 15 different games
at the convention (plus some Craps), 8 of which were new to me. The most played and my favorite new game was
The Mind
, a new cooperative card game where you have to play the cards in order without talking!
Jess
had a copy that she borrowed from
Scott Alden
and was bringing it around to everyone at the convention to try out. It was really hard and a lot of fun, and I really want to get it. Unfortunately, it's currently only available in Germany, but I heard that it will be coming over soon.
We never won The Mind, but we came pretty close!
On Friday we met up with
Edward
(from
Heavy Cardboard
) and
Steph
, and we got to learn
Caylus
from Edward! Caylus is the grandfather of worker placement games, and it can be pretty mean, since only certain actions will trigger each round, and you can pay money to get the actions not to trigger. It was pretty fun, and the negotiation with triggering the actions was very interesting.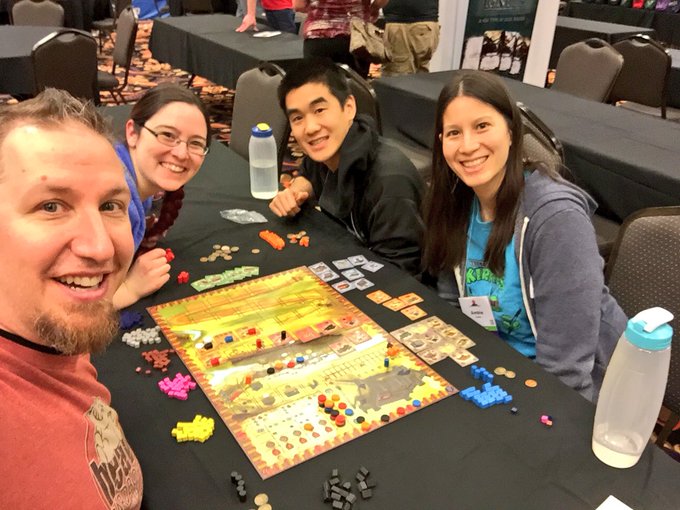 Three of the people in this photo had never played Caylus before! Photo by Edward from
Heavy Cardboard
After playing a few games with Edward and Steph, we mentioned that we wanted to play Craps, since we were in Vegas. Little did we know, both Edward and Steph wanted to play! So we played together (on both Friday and Saturday night) and had a lot of fun!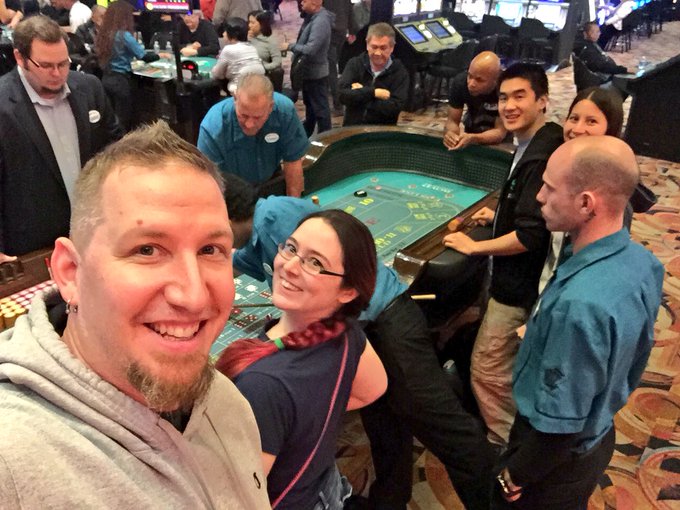 Playing our favorite casino game - the giant cooperative dice-rolling game of Craps! Photo by Edward from
Heavy Cardboard
I also finally got to play
Anachrony
, a time-travel themed worker placement game with really neat minis. I enjoyed it, but the time-travel didn't stand out too much to me, since the mechanic was basically a loan (you "sent" resources through time), and that part didn't feel like time travel. But I liked the rest of the game, which was like a dystopian survival theme. It was a lot of planning, building up buildings, and getting workers so that you could have a good engine to get points and evacuate when the crater hit.
The minis are exosuits so that your workers can go out into the wasteland to do things
We also got to play some not new games. I was on the
Meeple Overboard
podcast last week where we talked about games we wanted to get to know better and play again, and
Adrenaline
was one of mine. So Chris and Wendy offered to bring their painted copy and play it with me! I got to play the full game this time (my first time I think we just played a medium-length game), and it was pretty exciting. This time Toby got a bunch of good kills with his Rail Gun!
Wendy had a really neat paint job on her Adrenaline minis
Last year at MeepleCon, I was going to play
Dungeon Petz
with Sam Healey from
The Dice Tower
. Since he saw my first
Strategically Thematic segment about Dungeon Petz
, he wanted to play it, and I finally got to play it with him this year at MeepleCon!
Toby and I even made it into his
MeepleCon Vlog
.
We also got to play with Nick from
The Brothers Murph
, another fan and proponent of the awesomeness of Dungeon Petz. Dungeon Petz is one of my favorite games, so I always have a lot of fun playing it. But it's pretty difficult and needs multiple plays to know what you're doing!
My pet, Fuzzy (the fuzzy pink snake/cat), made the customer really happy!
Food
Toby and I decided to just eat buffets for Friday and Saturday, so that we would only have to eat one meal each day. Thursday night we had Teppanyaki (which we also went to last year), which was really good and fun. On Friday we went to
Wicked Spoon
, the buffet in The Cosmopolitan. We had been here once before and it was really good, but this time we were disappointed in the normal food. The desserts were excellent, but none of the regular food was very good.
Desserts are my favorite part of buffets. Also the chocolate tart on the top left had their spoon logo on it!
On Saturday we went to an all you can eat sushi place called Sushi House. Apparently there's a lot of sushi places in Vegas, and this one had good reviews, but the sushi wasn't that great. But what was fun about the place was there were cute sushi posters that reminded me of
Sushi Go
! Also, once again, the dessert was good. Maybe Vegas just has really good desserts?
I have no idea why the restaurant had these posters, but they really look like Sushi Go
Overall, I had a fun time at MeepleCon, and it was very relaxing compared to all the conventions I went to last year! It was nice taking longer lunch breaks and relaxing throughout the day (and taking breaks to play Craps). We still got a lot of gaming in, but we didn't overextend ourselves, and I was well-rested on Sunday night (after taking a nap when our early flight got home)! I also got to learn quite a few new games from their library - even though it was a smaller library, it had a good selection!
Share: